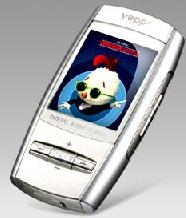 YP- T8N is a Flash based audio player Samsung has come up with recently. It is an updated version of Samsung's YP-T8. Its features are quite similar to YP-Z5, another flash based media player by Samsung. Both has 1.8″ TFT LCD monitor, JPEG photos, Samsung's DNSe 3D audio processing which can amplify low end sounds, supports for WMA audio and MP3 .
Apart from all this YP- T8N supports ASF and OGG Format and MPEG-4 video. It provides a battery back up of 20 hours and available with several storage capacity of 4, 2 and 1 GB.
Samsung has not revealed any details about its availability and price but with hell lot of audio players coming in everyday it becomes really tough for the buyers to make their choice.
via Engadget