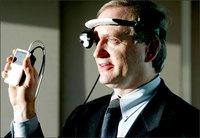 eMagin Corporation have brought in Eye Bud 800, a wearable headset system which converts video from your iPod into a big screen display. This amazing gadget uses optical Technology to display a higher resolution display in front of your one eye. It creates almost a similar effect, of looking at a 105 inch LCD monitor from 12 feet.
No matter where you are, Eye Bud 800, allow you to relish the big screen experience from the small screen of your iPod. It will make its first appearance in this week's CES event in Las Vegas. Eye Bud is priced at $599 which makes it more expensive than your iPod.
It will be on sale after five six months so you have got enough time to save some extra bucks for this wonderful accessory.
via techiediva