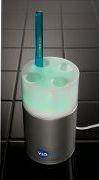 UV sanitzer for tooth brush appears like a normal tooth brush holder but it keeps your tooth brush away from all kind of germs which makes it a must have thing for every household.
This Million-Germ-Eliminating Toothbrush Sanitizer accommodates many toothbrushes at a time and has got several divisions to avoid cross contamination. Its removable drip cup allows easy cleaning. Its UV technology kills 99.8% the millions of household germs which can enter your mouth along with your tooth brush.
Having a diameter of only three and a half inches it will fit with even the smallest of counter space.
via popgadget