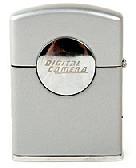 This tiny cool gadget looks like a normal lighter but does a lot more than that as its digital camera allows you take some instant pics anytime with just a click of a button. It makes sure that you never miss the action.
Its really simple to operate, flip up the lid as if you were going to light a cigarette, press that small button and that's it. Inbuilt photo timer of this device allows you take pictures continuously. To upload all the photographs you shot you just need to connect it to your computer by using its USB port.
This camera can hold almost 30 640 by 480 pictures or 100 320 by 240 pictures and requires three 'AAA' to operate. This digital camera lighter can be yours for just $30.
So best of luck, for your Secret Missions.
For Details coolest-gadgets