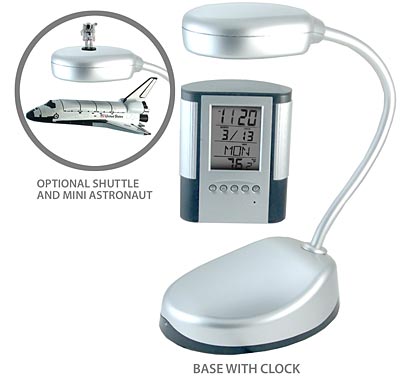 Well, this had to happen! After you get a floating bed, a floating clock is more of a necessity. Thankfully, the levitation scientists have not disappointed us by bringing a cool 'floating in air' LCD clock to our desktops.
All you have to do is to plug in the base and let the electromagnets do the hard work once you reach the optimum spot for levitating your digital timepiece. Once levitated, you could spin it clockwise or anti-clockwise at your will(told you it was cool!). All good things come for a price and this flashy clock comes for $90 along with an optional floating space shuttle and an astronaut for an extra $25. Nonetheless, the uniqueness of this levitation clock makes it a 'must-have' for all you watch collectors as well as for guys like us who love to show off gizmos to their cubicle neighbors. I see green!

Features & Specifications:
Base includes micro-processor controlled magnets
Switch allows you to rotate objects clockwise, counter-clockwise, or OFF.
LCD Display Clock Features (Time, Month, Day, Year, Temperature – C or F)
Base w/Clock Dimensions (2.0'L x 10.0'W x 5.5'D)
120V Power Adapter included with Base w/Clock unit
Power consumption 10 watts
Output, 12V AC, 1.7A
Shuttle add-on Dimensions (10.5'L x 7.0'W x 2.0'D). Made of metal and includes a little Astronaut!
Via: productdose.com
Available at: thinkgeek.com