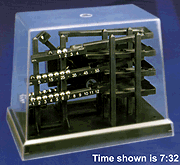 Do you find your alarm clock entertaining!! If No, then you will find looking at the time a bit entertaining from now on with this Electric Wonder Ball Clock. The electric ball clock tells time by rolling balls every 60 seconds. The machine uses precision electronic movement which puts chrome balls into motion every sixty seconds for accurate time keeping. Though, you will find it strange, I agree it is! Nevertheless, is fun at the same time. The unusual clock has 3 tiers of balls marking the time in minute, 5 minute & hour segments. At 12:59 the balls automatically roll back into their original positions and the watch requires no setting at all to make it run continuously. The clock requires four 'C' batteries and it sells for $49.98.
Cool Factor: Geeky looks & Time Concept
UnCool Factor: Mechanical Looks!
via Gadgetizer