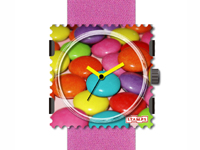 All you daring dudes and dudettes who love experimenting when it comes to fashion and do not mind going a bit whacky with your looks, then these latest watches called S.T.A.M.P.S are just for you.
These unique watches give you an option to wear watches anywhere you like…yes, anywhere, be it your hand or hair or for that matter, even on your forehead. Swatch and Citizen have come up with this different concept of wacky square watches that can be clipped precisely anywhere.
Not just this, you can even swap over the face of the watch with 184 new faces and get a new watch whenever you are bored off the old one.
These interesting watches are available at Camden's Stables market.
Via: GadgetCandy