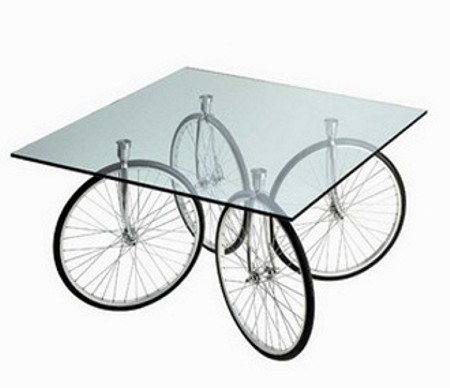 Designer Gae Aulenti has merged two very distinct ideas to create a masterpiece. The Tour Table is an unusual dining table that uses a 4′ x 4′ glass sheet as its top which rests in total harmony over the 4 giant bicycle wheels that act as the supporting legs.
The unusual combination of the glass sheet and bicycle wheels give a very exciting look to this dining table that was designed by Aulenti way back in 1993.
The Tour Table will amplify the beauty of your room in the most dramatic manner. I bet the Tour Table will tempt you to throw frequent parties – to flaunt your priceless dining table!
I hope, those wheels don't have the tendency to travel on their own!
The Tour Table measures 47.25″ x 47.25″ x 29″ H and carries a hefty price tag of $5,367.00.
Buy it here.