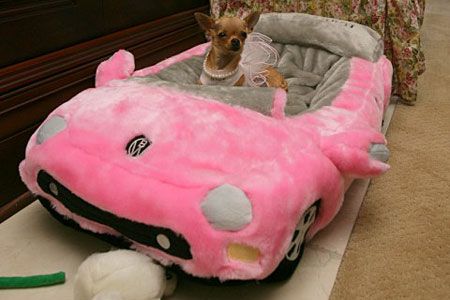 I have seen some spoilt little creatures biting off a precious pair of shoes, and easily getting away with it, but this one nearly choked on her own courtier necklace! Conchita, referred to as 'The Boss' by the family, just refuses to don the precious stone any more, after the incident. So what if she has discarded wearing diamonds, the owner spends $14,000 a month on Louis Vuitton bags, bikinis, pearls, dresses and make-up for the pooch.
Pampered is a small word for this one-year-old Chihuahua, who belongs to a socialite Gail Posner, a daughter of a billionaire businessman. Hear about this, the dog has a special pink racing car bed, an independent bathroom and a TV, and lunches daily on fresh grilled chicken breast at the exclusive Shore Club in Miami. Conchita enjoys her weekly manicures, has a personal minder and publicist, and lives a life at par with some celebrity!
If you think she gets all this attention out of the owner's choice, you are wrong, for according to Ms. Posner, Conchita howls if not taken to the Shore Club. There she sits on the king's chair in the TV room, away from the other two dogs of Ms Posner. Her tantrums do not just restrict to her eating habits, for she goes to bed only in her blue or pink cashmere sweater.
I once heard a saying that 'every dog has it's day', guess finally this one has been gifted with a lifetime!
Via: Neatorama