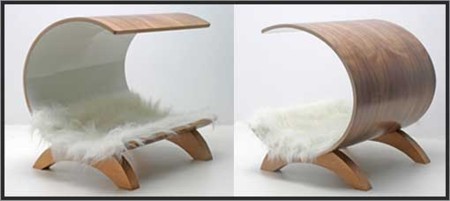 The Wowo Dog Pod is an elegant bed for your pampered pet. It features a bent ply decorated in veneer, resting on arch-shaped solid wood legs. You can choose the veneer that best suits your home decor. Available choices are maple, cherry, white oak, walnut, and bamboo. The pad is removable and washable.
The luxurious bed is suitable for small dogs, but not exclusive to canines. It will also accommodate your feline friends with equal hospitality.
The elegant bed is available for $599.00 from Vurv Design.