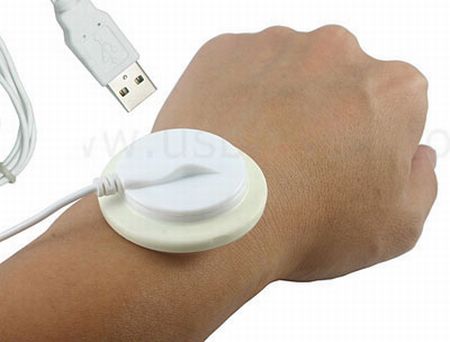 Are you one of those who are perennially working on the computer? Do your wrists hurt after a particularly long day hitting off on the keyboard? Do you get a neck cramp from constantly staring into the bright monitor? Then you are prone to the modern-day ailments which are basically lifestyle problems such as repetitive stress injury, carpel tunnel syndrome etc.
When the pain of this stress ailments hits, it is excruciating and no amount of applying pain relieving balms help reduce the agony. Scientists have discovered that heat from Infra-red sources is one of the better ways to relieve pain associated with muscle strain and stress injuries. And already there is a USB-powered product which you could use to relieve your aches and pains caused by repeated working on computer. USB Fever offers the latest gadget for tech-savvy, a USB powered far infra-red pad that promises to help relieve aches and pains in various parts of the body.

This ultra light and compact pad is only 45 mm in diameter and weighs only 31 grams. You will not even feel that this gadget is on your body. Powered by miniscule electricity (1.2 W) and is the first of its kind in the market. However don't rush to the market to buy it. There is a clear warning from the manufacturers that you must consult your doctor before using it.
In this sense the company has made it clear that they don't offer any miracle cure and it may not work with everyone. This is perhaps the first USB gadget ever to come with this warning. Priced at $21.99 (Rs.880) per patch it is quite steep on the pocket. If you want to buy five for your fingers then you will be set back by almost Rs.3,600. Think over!