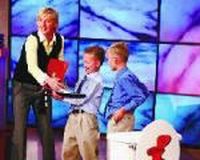 If necessity is the mother of invention, then friskiness definitely deserves to be the aunt, or at least a distant relative. What started as a playful exploration for these 8-year-old twin Ohio boys has earned them unexpected fame and recognition. The boys invented a 'wedgie-proof' underwear that just rips off when some tries to bully you by giving you a wedgie.
The twins, Jared and Jestin Serovich, used rigged boxers and some fabric fasteners to design the 'Rip Away 1000'. Justin explains the concept,
When the person tries to grab you – like the bully or the person tries to give you a wedgie – they just rip away.
The idea struck them one day when they were playing around as usual, giving each other the painful treatment. Their mother's partner, who was watching the entire episode, said sarcastically that 'someone ought to invent a wedgie-proof underwear'. The boys took it as a challenge and came up with the perfect solution.
The project even earned them a final place at the central Ohio invention competition earlier this year and a spot Friday on TV talk show, 'The Ellen DeGeneres Show'.