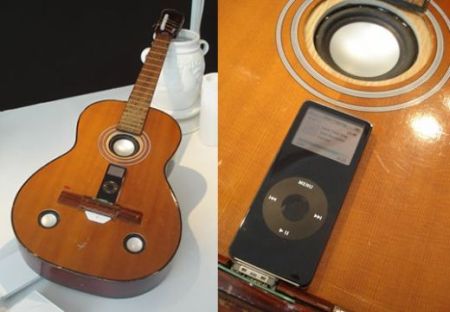 How about turning an old guitar lying in your basement, into something useful and attractive? Yeah, turn it into an Ipod dock. All you need to own is an old guitar with strings ripped off, an Ipod and its speakers, and an innovative mind.

This Torre acoustic guitar was a part of a recycling challenge for this week's London Design Fest, one of the participating firms Conran and Partners took this strung out guitar and turned it into a stereo, I wonder how the music will sound in that lovely hollow of the guitar, amazing!
Deptford Design Market organized this event, where artists gathered to re-purpose and recycle old found objects into new and useful little things like this one. This work is really creative and useful. So how many of us are ready to mess with the junk and turn it into something like this?
Via: Technabob