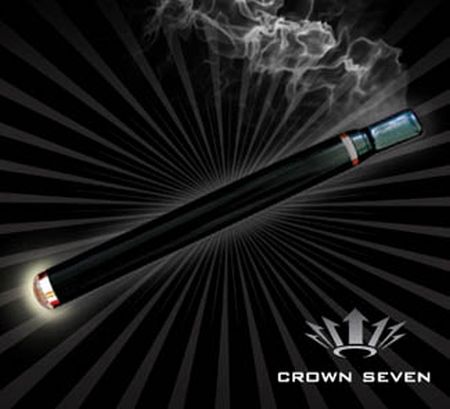 Are you a nicotine addict and suffering from a smoking ban in your area? Then this electronic cigarette is for you. Yes, made by Crown7, this gadget is battery operated, contains no filthy tobacco and its one cartridge equals to two decks of cigarettes.

It looks like a normal cigar, the only difference is you can inhale the smoke and leave odorless invisible vapor, which sounds like smoking a magic cigar, doesn't it.
Crown7 boasts of the following benefits:
Emits a Harmless Vapor That Simulates Smoke yet Satisfies the Nicotine Urges & Cravings
Use Crown7 in Any Situation Where Smoking is Prohibited – Our Product is Non-Offensive
Rechargeable Battery for Endless Hours of Enjoyment and Smoking Pleasure
No Offensive Smoke… Only a Harmless Vapor is Emitted
Perfect Solution to Smoking in a Casino or Pool Hall – Prevents Noxious Odors by Never Creating Them
Sophisticated Design, Sleek Art Deco Look & Feel
No Residual Clothing or Room Odor… Now that's a Real Benefit!
Battery Operated, Simple to Manipulate in all Situations Where Smoking Cigarettes has been Prohibited
So, do you find it good ,if not better because smoking ain't a good thing. Though I'm a smoker myself , I know what it is, and I know for sure it isn't good.
Via: Coolest-Gadgets