With rising air pollution, fresh oxygen has become a novelty. In search for fresh air, people would travel to seaside resorts or put oxygen masks on the face. But, is there any place on this planet untouched by the venomous tentacles of pollution? From the scarcity of important requirements, intelligent innovations arise. Likely, a Parisian has created an innovative method of feeding oxygen to the fresh oxygen-deprived population.
Mathieu Lehanneur has created an aquarium that is home to over 100 liters of Spirulina Platensis, the algae that is often used as a dietary supplement. The algae produce pure oxygen by photosynthesis and people walking into the place can inhale the pure gas by inserting their heads into a funny-looking device.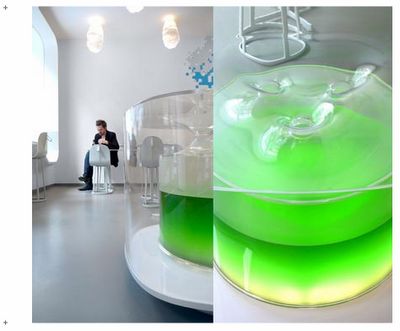 This interesting oxygen-inhaling place is in Paris's Flood-58 rue de Chateau dun et 1 rue Danielle Casanova. "Oxygen cafeterias" are becoming popular in today's lifestyle.
Source: architectradure