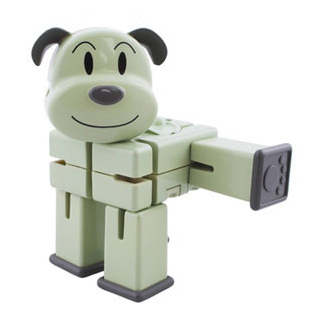 Are you the kind of individual who is not quite the 'morning person'? Does your day starts with cursing the same old boring alarm clock and you wish you had a few more minutes of extended sleep? Sometimes, you surely might be feeling like managing the luxury of shutting up the alarm clock and taking pleasure in sleeping only to get late to work.
Well, may be we cannot do anything about changing your sleeping patterns, but, offer you a completely innovative device to coax you out of your slumber! Yes, the new clock,'Cacchoro' by Bem Legaus is an innovative alarm clock that will help make your mornings livelier. The alarm is shaped like a robot dog with fully movable and bending limbs.

This feature facilitates many interesting positions, in which the dog can be assembled at the night, while adjusting alarm time for hearty morning laughter. It has a screen with a digital clock that acts as a table clock. The head of the dog serves as a door scrap extending its usage. This alarm is a good investment to help you wake up in the morning on time and that too — with a smile.
Via: Bem Legaus
Image: Bem Legaus