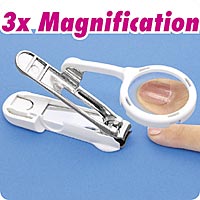 Have you ever been caught in a mess cutting your nails out? The reason might be your bad eye sight or those small nails that dig deep down your flesh. Here is a cute little solution and I think it would be perfect for toddlers that are just learning to cut their nails. These cutters or Seki Edge easy view nail clippers are a wonderful but amusing item.

As you can see, the clippers have another attachment namely a magnifying glass. The glass has a 3x magnification lens that can help you out with your nails. Well, you'll have another advantage and that will be no more scolding's from mom for leaving nails over the bed. Now, you can literally find them with the magnification glass and make sure that they end up in the dustbin and nowhere else. However, I have only one doubt whether it would be convenient to use or not, as I am not sure that it would be easier to concentrate on both the sides.
Well, you can get the clipper for $16.95, till then I'll try to justify my doubts.
Source: Coolestgadgets