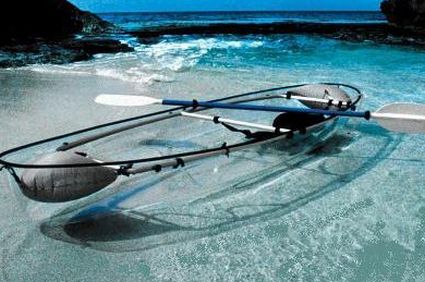 Check out all of the aquatic action going on beneath you while you go out for kayaking next time. Yes, you've read it right! A unique kayak-canoe hybrid is fully transparent and offers paddlers an underwater vista of aquatic wildlife and waterscapes unavailable in conventional boats.

It's transparent polymer hull that is made of the same durable material used in the pit canopies of supersonic fighter jets. This canoe-kayak offers more surface stability by displacing greater amounts of water.
The canoe has a lightweight anodized aluminum frame for easy transportation and comes with two double-headed paddles, a water bailer and two flotation devices. Weight capacity is 425 pounds. Paddling Transparent Canoe-Kayak definitely have much more fun than others conventional boat. You can own the Transparent Canoe-Kayak for a price of $1,600.
Source: Spluch