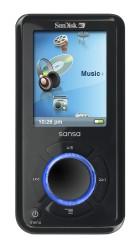 Apple is an undisputed leader in the market when it comes to handheld music players. iPod Nano is surely a mega hit. But recently introduced Sandisk Sansa e200 series, seems to have enough potential to give tough fight to Nano.
These flash memory based MP3 players are available with the storage capacity of 2, 4 and first ever 6 GB. In comparison with the 1.5 inch color screen of the iPod Nano, Sansa e200 posses a 1.8 inch color screen. Another feature which gives it an edge over iPod is its battery backup, which is more than 30 hours at a stretch.
Its casing of Liquidmetal alloy and titanium gives it an elegant look. Though it's a bit thicker than nano but looks really cute.
If you will look at the prices, you will surely get to know that, Sandisk has got all the plans to cut down Apple's sales. iPod nano of 2 GB storage costs $199 and 4GB is priced at $249. e250 series costs $199, $249 and $299 for 2, 4 and 6 GB models respectively.
Read More Playlistmag