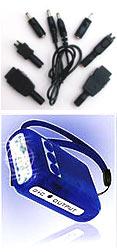 Electrilite is not just another charger as it claims that it never needs batteries or bulbs. This tiny gadget fits in your pocket quite easily which allows you to charge your mobile phone anytime. It has got 5 Super Bright LEDs along with one red LED for night acclimation.
Its adapter is compatible with all most all the cell phones either it be Nokia, Motorola, Sony Ericsson, Samsung, LG or any other. And above all it's quite cheap. It's priced at only $24.95.
I think Electrilite is really worth its cost as it can really save us from the trouble of low Battery when we are out for Fishing or Camping.
Also See Electrilite