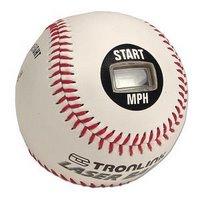 This an amazing gadget meant for baseball Pitchers. This baseball having an Lcd monitor allows you to see the speed of the ball at which it is delivered. In technical terms its called Speed Sensing Digital Laser Baseball.
It can read a speed from 20 to 120 MPH. this cool ball gadget has the same size just like the one used in the game and weighs almost the same which makes it ideal for your practice sessions. Its hand sensing technology is simply superb.
It is priced at $23. I don't think that I need to mention that do not hit it with a bat!
Read More: Techticker