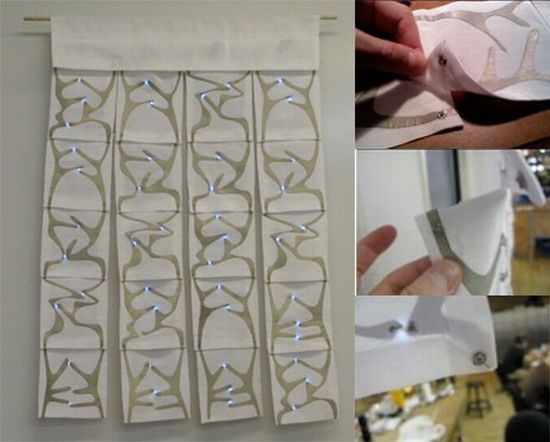 Fashioned by Alex Kowal during the 'Soft Circuits Workshop' at NYU's ITP program, the Soft Wall Lamp is a unique e-textile concept that uses soft circuits made of flexible electronic components like conductive fabrics and conductive threads. Using techniques like quilting in combination with electronics, Kowal came up with a unique, modular lamp that looks like a wall curtain.

Incorporating laser cut conductive fabric to make beautiful, functional electronic leads for 70 white surface mount LEDs, Kowal connected the quilt panels physically and electrically by sewing metal snaps onto the corners of each panel to connect and supply power to the LEDs on the panel next to it.
This allowed the design to have more panels added or removed to create lamps of almost any size. With the light intensity of the soft wall lamp/curtain being defined by adding or removing quilt panels, the Soft Wall Lamp curtain redefines the use of fabric and textiles in homes via these reconfigurable, beautifully aesthetic objects.
Watch Kowal's project presentation in the slide show below.
Source: Talk 2 My Shirt