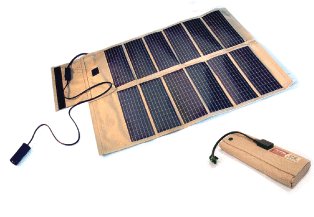 Powerfilm, another solar battery charger, but what gives it a cutting edge over others is its amazing features. It can power almost all your electronic gadgets including your mini iPod, most loveable cell phones, your most expensive laptop and much much more.
With an accessory charger it is capable of charging NiMh, NiCd or Lithium ion batteries. It provides 10 watts of power. Though it's pretty expensive and costs $299 but it's really worth buying. Its foldable and extremely light weight (it weighs 9 0once only) which makes it an ideal accessory to make all your outdoor activities a memorable experience. It fits quite easily in laptop bags and backpacks.
Available at Sundace Solar .