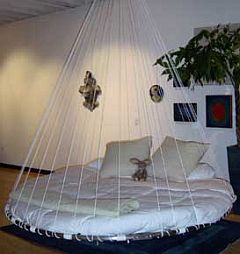 Floating Bed, as the name suggests this bed hangs with the help of wires and moves like a one point pendulum in all directions. This is a really innovative kind of bedding and sounds really interesting. It can be fixed on all kind of celings with an ease.
You might be wondering that will it be able to handle so much of weight. The reply is yes, the people who have already used it says that this it is not just another piece of furniture, its simply awesome and ideal for relaxation.
It can really add up to the decor of your house as its design is unique and looks stunning. It can be used indoors and outdoor as well.