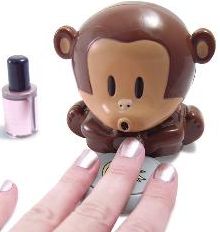 If you avoid applying nail enamels just because you don't have the time and energy of flapping your hands in an attempt to dry it then this cute looking Blow Monkey is an ideal gadget for you.
What all you have to do is to apply your nail polish as you always do and place your fingers on his plate of bananas. Without blowing off your nail polish it dries your nails quickly with cool air it blows.
Blow Monkey is a unique beauty gadget which enhances the look of your dressing table and because of its small size; you can carry it with you while traveling as well.
I am sure every women is gonna love this cute little chimp. It is priced at ₤50.
Via Women Life Style