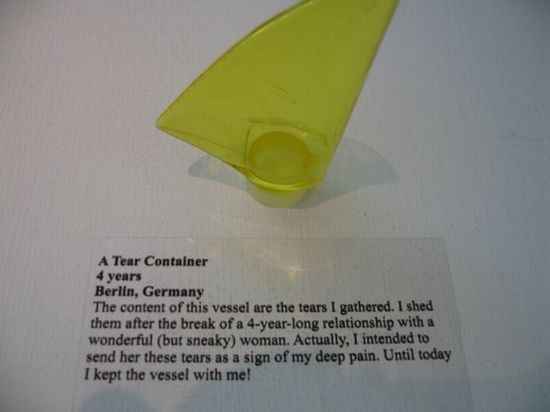 Origin: Croatia
Idea: The idea came when two Zagreb-based artists Olinka Vistica and Drazen Grubisic split up and wanted to do something creative with what they were going through.

About the museum: It's a traveling exhibition based on broken relationships. It asks people to donate memorabilia of their terminated relationships, from brief flings to long painful divorces. Donors are asked to include a short description of what the object means to them, the time of the relationship and where they are from.
Why is it here?: Agreed, that the idea is quite unique/unheard off, but I feel there's more to it – Love gets highlighted everywhere, but when it comes to separation, it's the poor soul that has to bear the load; that includes emotions, memories, time and above all…trust. Trust to trust someone in the future, trust to fall in love again and trust to take positives from the relationship and move on. At least someone somewhere thought about what it feels to be betrayed and went about preserving those fond memories; worthless for the one who went about the decision, but priceless for those who were left to remorse.
My take: I don't know how to express my feelings, mixed feelings to be precise. On the one hand I'm thinking how the donor would react when asked to donate his valuables, while a museum full of experiences, though sad, could act as a guiding light for the ones in love. I just hope the idea pays off, people understand what being in love means and how it feels without wheels (driving force/partner).