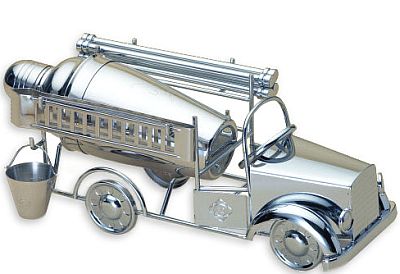 A fire truck, as known widely, is a vehicle exclusively meant for fighting fire. However, we have a different kind of fire truck here. It is a Five-Alarm Fire Truck, a perfect home appliance; I mean a high versatile kitchen item.
Equipped with ten pieces of fireman bar set, the fire truck will help you serve your guests with cocktails, favorite drinks while protecting you from fire. Amazing! Its weight is just 3.6 pounds. It comes with a 16oz stainless steel cocktail shaker, water pail jigger, steering wheel corkscrew, 4 silver plastic water hose drink stirrers, bottle opener, and ice tongs.
With above components, the Five-Alarm Fire Truck will enable you to get the things done quickly so that you can serve your guests in a decent way. The price of the kitchen fire truck is just $55.00. It is now available.
Via: Homewetbar