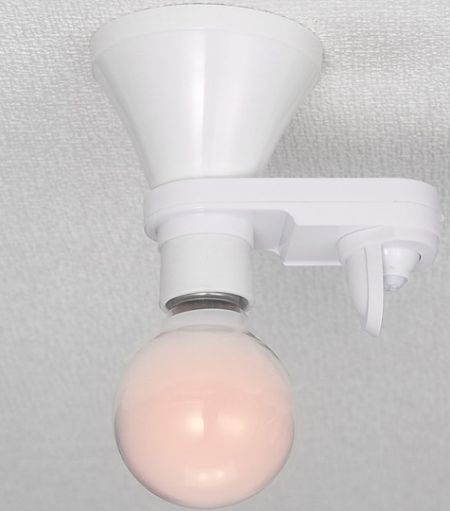 Sometimes we might feel tired after coming home from work or from outside and wish someone switches on the light for us. Here is a great news from ELPA (Asahi Electronics Co., Ltd.) regarding this. ELPA is going to release its two models of bases of lighting fixtures by November 10th. Both products are light sensor adaptors and are people feeling sensors. These fixtures have adapters that are "sensors with socket adapters". Price is an open price. Sticker prices are expected to be around 3,500 yen for "SA-26AJB" as well as for "SA-26JB".
We can use the E26 base as residential lighting equipment socket and fix the bulb or fluorescent light bulb between the inlet alone. The light sensor to the adapter will automatically start working.

The mechanism in these E26 lighting fixtures will work in such a way that as soon as we enter the home the lights glow in a given time.
1)A bulb connected to SA-26JB will glow in 30 seconds / minutes / fifths of the three stages and
2)A bulb connected to SA-26AJB will glow in 3 minutes / 5 two-stage switch.
SA-26AJB: It's equipped with an optical sensor that helps in brightness detection in a day.It means we dont have to worry about the time when the bulb in our home glows and when it gets switched off. It glows according to the day light or night.
The size of the body of these models is 116 x 47 x 75mm (width x depth x height) and the weight is 120 g. Standby power is 0.3 W. Incandescent Lighting is available in 60 W, fluorescent light is 22 W.
So let's have that pleasure of automatic lights.
Via: Elpa