With the advent of Internet streaming, there are now more ways to watch TV than ever before. No longer should you tune in on time or set your VCR to record and hope no one changes the channel between now and when your show comes on!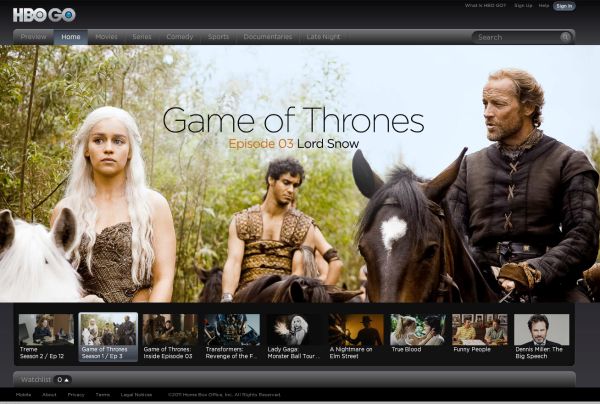 On-demand services have made things much simpler, and services like Amazon Prime, Netflix, and HBO GO have made it possible for viewers to not only catch up on what they may have missed from this season's hit shows, but they can also go back and rewatch old favorites, start a show they missed entirely in its original run, or settle in for a "binge watch" of an entire show or season.
There are plenty of great classics in the HBO Library that true television connoisseurs will want to see, but might not be available in their country:
Deadwood tells the tale of the American Frontier in the late 1800's when politics were as savage as the gun battles in the streets. The Sopranos is, of course, the Emmy Award-winning tale of a modern Italian Mafia family in New Jersey, struggling to come to terms with itself and the man who runs it, Tony Soprano. Oz was the ground-breaking prison drama that fundamentally changed the television landscape for what a premium cable TV show could be. And of course, the cops-and-robbers, thrilling drama of The Wire took us through the drug-dealing streets and backroom wheeling-and-dealing political avenues of Baltimore.
Unfortunately, not all of these incredible shows are available to all viewers, in all parts of the world. Due to regional constraints, contractual obligations, or sometimes a combination of the two, not every show may be viewed from every country.
This can be especially frustrating for people who may have started viewing a show but were forced to end their subscription package or someone who keeps having things spoiled for them online because they just can't keep up with their favorite show!
So, what's a loyal viewer to do? You can resign yourself to your fate, and just never catch up on the amazing television waiting for you… or, you can get a little creative and take advantage of the same technology like plenty of other viewers in the UK who are already using it to make sure they get to see the shows they want.
Using a DNS Proxy, a handy bit of technology that will reroute your IP address and make it appear as if you are instead residing in a country that does have access to HBO GO, you'll be able to see all of your favorite HBO programs and explore new shows as well.
The DNS Proxy system is safe, legal, and for a limited time, free. To learn more about this service and determine if it's right for you, simply follow this link.
In no time, you'll be kicking back, relaxing and enjoying everything HBO GO has to offer!
Article Submitted By Community Writer