When it comes to eating, kids prefer munching cool looking foods, the ones that entice them, tempt them to eat! While a lot of parents struggle with the idea of making simple looking sandwiches artistic for their kids, David just uses simple looking plastic bag and turns the sandwich into a piece of art! Yes, he brings his own genre of style into the art of making sandwiches, by adding hand drawn pictures to the plastic sandwich bag.
David Laferriere, father of two understands that kids can be very picky, hence, for the past five years, he has been drawing cartoon pictures on plastic Ziploc bags with a Sharpie marker. Since his kids don't see the drawing before recess, hence everyday is packed with surprise and humor for them.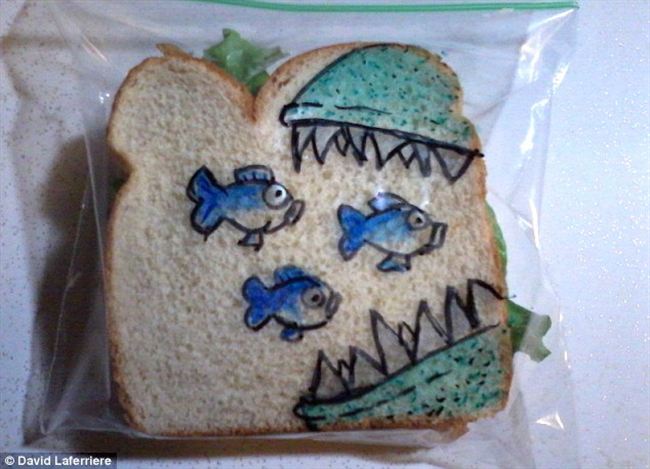 This creative father from Massachusetts has done over a thousand drawings on his kids' lunches. A graphic designer by profession, Laferriere drawings range from cute dinosaurs to beautiful ducks, lovable monsters to innocent goldfish. Before giving the lunches, he takes a quick snap of the same and uploads it to his Flickr account.
His favourite bag art is the Digging Dino wherein a man is apparently digging the sandwich to find the skeleton of a Dino! Another one shows a green monster chef and a foodie bird.  He also draws pretty faces, marine theme drawings and inspiring little pie charts to surprise his kids at school each day.
But if you thought that this was easy then you are absolutely wrong! Each day Laferriere has to come up with an idea. At the same time, he has to draw them directly on the bag. And yes, there are no erasers! But this daddy is surely creative, for it takes him only five minutes to put his imagination on paper (or in this case, a plastic bag)!
Laferriere is an incredible illustrator who uses his ingenuity to brighten the lives of his children.  He mentions that the idea or inspiration behind each bag comes from whatever is happening at that point of time, for instance it could involve a family holiday, an outing, the bread bubbles, clouds or even weather!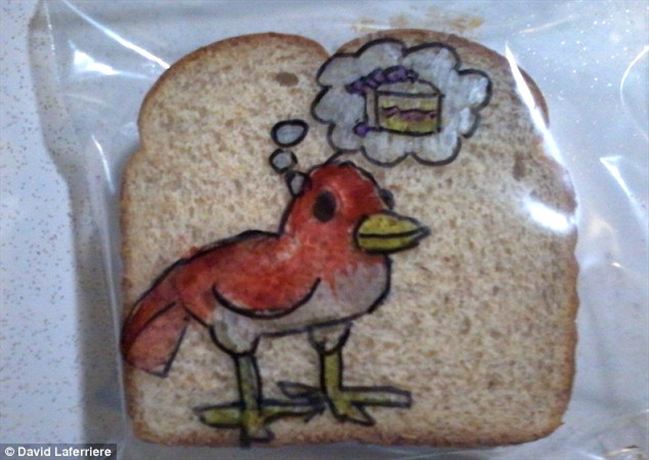 Because of his ingenuity, this father is surely inspiring millions of families and parents world over, encouraging them to think beyond usual when they prepare or pack food for their kids.
And that's not all! If you thought that this father's talents are restricted to a Ziploc bag, then you are wrong, as Laferriere is also the in charge of making sandwiches for his children. So, every day, his 13 and 15 year olds not just look forward to the cartoon, but also to the elements that make up the sandwich!