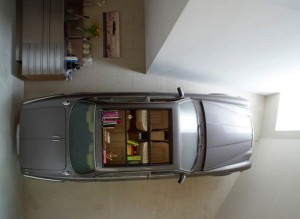 To live in a house with cool furnishings is what everyone desires. However, cool furnishings also come with cool price, but for people obsessed with extraordinary stuffs, even the price cannot provide any barrier in their way to make their living place beyond ordinary.
Shelves are an important part of any household furniture but the shelves mentioned below are bound to make your jaw drop in surprise and acclamation. So, here are some unique and extraordinary shelf designs that can only be the product of excessively creative and extraordinary minds:
The Jaguar Shelf
Yes, you are right. This is a real Jaguar whose heavier parts has been removed and with tremendous effort and perfect planning, has been hung on a large wall as a shelf. The roof of the car has been removed and is replaced with three shelves that can be used for storing books, trophies and other miscellaneous items. Although expensive, but it can be considered as a great way to keep using your old car as a shelf in your living room instead of giving it away.
Fold-out shelf
A shelf provides your room with additional storage and a mural lends your room with certain character and also reflects your taste. So, if you are unable to decide between a mural and a shelf for your wall, then this fold-out shelf could be your answer. Created by MarknKinsley, a Chicago based designer, these innovative shelves consists mural painting which are neatly sectioned off into many panels. Then, with the help of a unique fold-out mechanism, you are provided with the option to convert each panel, which is mounted individually, into wall shelving easily.
Bakery Shelf
Designed by March Studio, a Melbourne based architectural firm, this unique and state-of-the-art shelf design reflects the shape of bread. The color of the wood also imitates the color of bread and its shifting quality makes it look incredibly beautiful.
The branch Shelf
If you are among the people who likes everything to be simple and unique then this Branch Shelf could be your product. Wood and ply, designed to form a tree branch has been fitted to the wall so perfectly, that it gives the appearance of a branch been projected out of the wall.
The Pipe Shelf
Germans love functionality, quality and efficiency. Created by Mark Brauns, this Pipe shelf can function as storage, a coat rack and also can accommodate many other things as per your requirement. This pipe-like construction is space-efficient, functional and is completely made up of steel. The design itself looks very modern and industrial and can be a great way for you to display your taste for quality modern interior along with uniqueness. Besides that, the bright red color of the shelf will add another touch to your room.