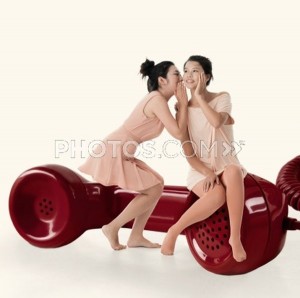 We often get tired of looking at the same thing every day, following the same routine and living life uniformly. But in this fast paced life, uniformity has become a part of our life and may be that is why everybody likes to get fascinated by a little weirdness every now and then. So, if you want to witness a little wackiness in your day-to-day life, then try replacing your common landline phones with some of the wackiest phones mentioned below:
This Hamburger phone will surely make you remember the funny phone you must have seen in the movie "Juno." If you love hamburger and never get tired of having it, then surely, this is the phone for you. However, if you are on a diet then you may not like the idea of talking over it and not being able to have it, not literally though.
If you often get hungry while talking over the phone and crave for some snacks during telephonic conversations, then this French Fries Phone could be the right product for you. With it, now you can have both fast conversation and fast food at the same time.
This Hot Lips Phone could be a perfect piece to feast your eyes over and again. If you are a great fan of retro gadgets and like to surround yourself with the yesteryears fashion symbols, then you are surely going to love this red hot piece called as phone.
For all the fans of the epic character of Homer Simpson, get ready to hear his famous classics lines everyday wherever your phone rings. This Homer Simpson phone is an animated talking phone which can alert your incoming calls with famous Homer Simpson one liners like, "Don't touch it, it might be work!" in his voice. If you are a real fan of this funniest character ever created then this could be a real deal for you.
If you are obsessed with fashion, especially involving fur, then this is the right choice for you. So, you no longer need to settle for those dull looking phones which don't interpret your taste for fashion as this Telecom Fur Phone will certainly make your fashion statement very loudly, in fact.
Star Wars R2D2 Novelty Phone
For Star Wars fanatics, this is not just a phone, this is a symbol of their love and respect for the epic characters of the famous Star Wars series. Moreover, like an added bonus, this R2D2 can light up, move its head and emit perfect sound effects whenever you receive an incoming call.
Michael Jordan Animated Phone
Fans of the basketball legend Michael Jordan will love to keep this piece of gadget as a tribute to their icon. Besides the design, the phone also rings with the announcement of MJ in the basketball court along with light flashes and the cheering of hundreds of fans.