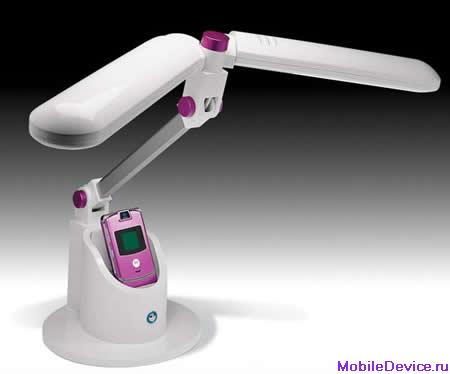 Get the most out of a simple lamp. Often you may find all the wires or adopters are creating a wired mess on your desk when you are working with a regular table lamp. In addition the charger-cords of your cell may annoy you more. So, Herrington has come up with a multitasking lamp which allows you to recharge your cell phone, iPod or PDA at the same time while illuminating your work space.
All you have to do is, plug your cell or iPod recharger into the back of your charging desk lamp then place your device securely in the base. Thus you can save yourself from the agony of wires and clutter all around your desk and paper piles.

The lamp is with two powerful heads that pivot and swivel for optimal lighting to let you enjoy the soothing natural daylight simulated by the Twin Full-Spectrum bulbs. This reduces your regular eyestrain too. The bulb will last for 8000 hours long and delivers 140-watts of lighting which is enough to show the clearer text. This also includes replaceable accent caps in some arresting colors like Black, Razor Pink, Gold, Silver, Green, and Blue to go with most of your gadgets. You can add this to your cart when you have to pay just $49.95.
Via: Herrington