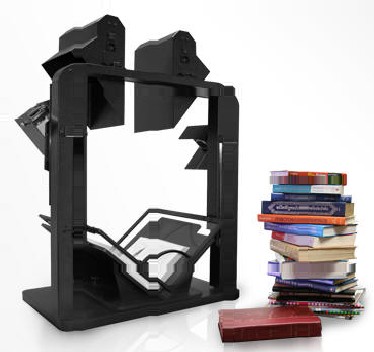 Having a personal library is a dream come true for book lovers but given the exorbitant prices of books and the lack of storage space, not many of us can afford a personal library. A personal digital library sounds as a good alternative, and BookSnap is one gadget that makes the task of creating a personal digital library a pleasant one
is a book ripper that lets you transform books into PDFs at 500 pages/hour. The website claims to digitize books at the speed of 2 digital cameras making the scanning process much faster than other scanners so that you no longer have to waste hours and days just to scan a single book.
So, you basically place the book on the 'v' shaped cradle and flip the pages as it scans them as the 2 digital cameras used as an image capture device instead of a scanner shoots the images and in the end BookSnap outputs all the images into one single PDF.
Go, beg, borrow or steal a book and let BookSnap do the rest!