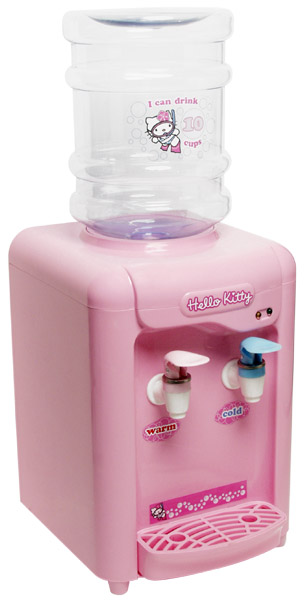 The difference between kitty and Hello Kitty is apparent; former can rid you of your milk but the latter is sure to get you some water. Surprised? Ask Sanrio, for the hello kitty has a new role to play in your kid's life. After stuff animals and school bags, Hello Kitty has now even more utility!
With capacity of ten glasses, it can dispense beverages, apart from water, like iced-tea and lemonade. Two seperate dispensers take care of the temperature, one cold and the other at room temperature. LED indicator lights and removable drip tray just add to the easy-maintenance.
Bid adieu to the days when the kids would get up in the middle of the night to spoil your sleep for one glass of water, no more noise, for even the dispenser has a quiet thermoelectric technology sans the compressor!
The functions are many, and honestly, it makes for quite an eye-candy!
Via: Hello Kitty