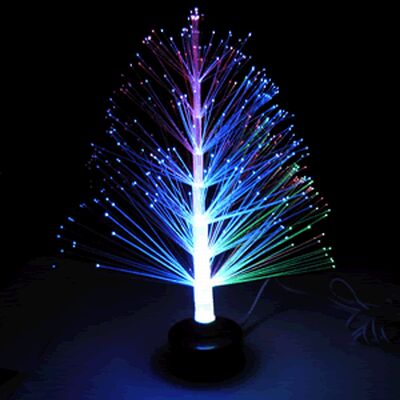 Have a very Merry Christmas with this geeky USB Fiber Optic Christmas Tree. Actually, it looks like miniaturized version of the real Christmas of the real Christmas tree! Green needles with white snow.
The shimmering light from the optic fibre instantly adds a festive ambiance to your desk. The best is that, they are not pesky wires to wrestle with once the holiday season is over, you can unplug it and tuck it away in your desk drawer till next Christmas will roll round once again. The features of the USB fibre optic Christmas Tree are following:
1. USB powered or 2 x AA batteries
2. Flashing fiber optic lights
3. Power On/Off switch
4. Tree is approx. 12.5″ tall
You can simply plug the USB Optic Fibre Christmas Tree into an available USB port on your computer or laptop and experience a warm glow as the tips of the branches glisten with bright blue shimmer. The sparkling little lights will be soothing for your eyes when you will work till late night.
Image: Gadget