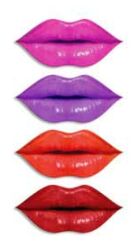 These Boo Boo Kisses bandages are really cool. Now you can hide your minor cuts and scratches with these effective bandages available in the shape of lips. It comes in a pocket tin, made up of metal and you can buy a pack of fifteen Boo Boo Bandages for just $4.95.
Isn't it amazing! I know some of you might be thinking about sticking them on your body just for fun and without any wound. This is not all you will also get a tiny plastic toy for free with the pack.
Available at mcphee it comes in attractive colors so you can even mix and match them with your clothes, shoes or belts.