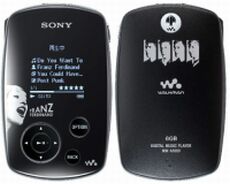 Sony has introduced Franz Ferdinand Limited Edition of NW-A1000 to celebrate the latest release of this Scottish band. Only hundred pieces of this MP3 player would be made available.
In front this music player has jacket design of their album "You Could Have It So Much Better" and at the back there are black and white photographs of the Band's Member.
Along with this music player you will get a card autographed by Franz Ferdinand and a very special message which would be preloaded on its hard drive.
All of you who want to buy this black colored, stunning gadget would be available in Japan on 26th of January and 9th of next month.
It is priced at 33,0000 Yen approximately $300.
Via Engadget