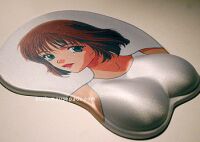 Busty Mouse pads….Really smart. Men have an obsession for big boobs and guys at Busty Mouse Pad know it pretty well. All you spoilt brats out there will love this one. This ergonomic mouse pad comes with a wrist rest of gel boobs.
Your girlfriend may not like this, because of Jealousy but this is the coolest mouse pad I have ever come across. Its available in different colors and styles.
I am sure you will pay anything for it but this nasty stuff is fairly priced at $19.95. So go for it, Satisfaction Guaranteed.