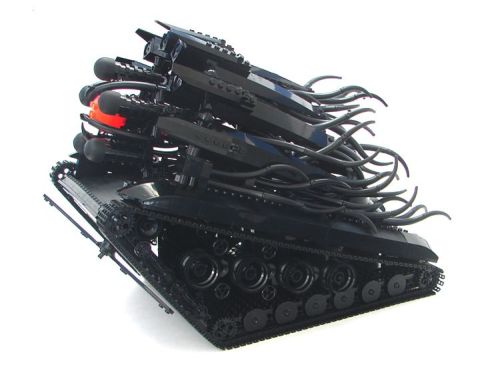 Before you even start getting depressed because you think this is another report on some new disease or a terror attack, let me tell you that it is just a toy. There, that should you ease your nerves. But this is not just any other toy; this is the 'Black Machismo' of all tanks. This monstrous tank which has tentacles sticking out from all over its body is a wonderful combat toy and it is so much fun to have. It really looks frighteningly cool and seems very unique.

This tanker was created by a bloke named Nannan. Z and it seems to have already won over several fans. Yes, it looks really cool but it has some limitation which I do not like. The first look at it shows you the most glaring defect and that is the fact that it is attached to a wire. Now despite it being just in developmental stage, that is something totally unacceptable in this time and age. Moreover the design could have been a bit more dynamic.
The appearance looks really nice and scary, but the intimidation factor would have been all the more better with tentacles that move and sway. Maybe they could pick up soldiers and throw them away! The simple technology on it is really nice and it looks pretty good for a toy that has been designed by one person, who is most likely not a professional. I know many companies that have invested millions of dollars in developing a certain toy and have ended up making stuff that is a million times more horrible than this. So I suppose this truly is a good little creation.
Here is the youtube video for you all to enjoy