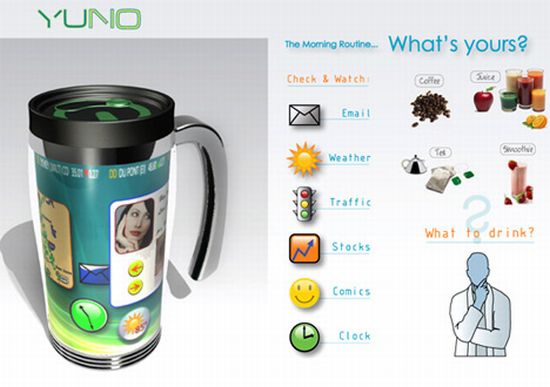 Are you bored with your regular, run-of-the-mill desktop PC? Do you feel tied down while working on your computer, and wish you could combine a bit of fun with your work? Your problems have just been solved!The Yuno PC—a unique and stylish PC mug that helps you derive maximum enjoyment and freedom while working on your computer. The PC mug has a touchscreen display and has provisions to display all the important morning alerts, including time, weather, traffic news and stock updates. You can even use your own customized images as screensavers.
This imaginatively created stress-free personal computer concept helps its users to break out of the constraints of an ordinary desktop PC, and helps them follow their usual reading, watching or listening habits as they work on their computer. You can even have your coffee in this mug while working with it! Now that is really cool.

It's time you said bye-bye to the stress and boredom of your old desktop PC. The sophisticated, unique and beautifully designed Yuno PC mug is guaranteed to make your mornings more fun..more enjoyable…even as you work!
Source: YankoDesign