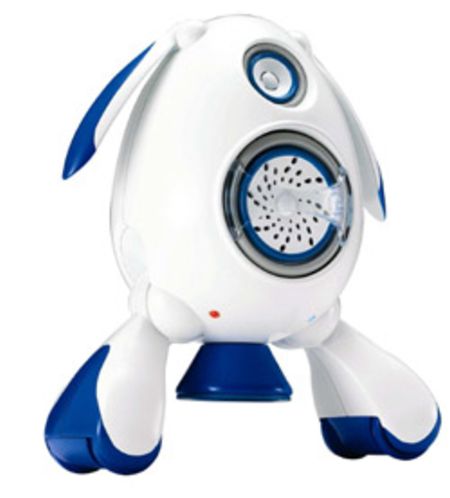 Robots are always eye-catching and attractive technology products. Let's have a look this white-and-blue, oval-shaped dancing robot named as 'WassUp'. This great creation is from 'b2 miJam' and is almost similiar to the huge number of sound-activated robots available, that react to sound and music inputs. Once the music is on, this cute little robot dances like Micheal Jackson or like Shakira, ha ha, just kidding. Ofcourse it will not dance as well as the super brake dancers but it would do it's own fantastic steps moving it ears up-down shaking it's body in a unique way. It's two LED lights that flash to the beat are a real attraction.

Now let's have a look at the 3 play modes it has:
1) Sensor Mode: WassUp begins dancing to any sound it hears. Some manual sounds like clapping, singing, etc or even the barking sound of your pet dog will make the WassUp dance. WOW! what a great invention this Wassup is?
2) Music Mode: Just connect your iPod or any other MP3 player to the Wassup with the help of audio cable and start listening to the music from it's speaker. It means that it's a multipurpose robot, that can be used for listening music and as an entertainment kit while it dances.
3) Standalone Mode: Have fun watching the WassUp dancing to a built-in song.
And coming to it's parts, each part has its own sigfinicance.
1) The ears which are like pony tials are sound sensors,
2) Fore head has a speaker,
3) The legs are used to do the stylish moves and
4)The plate at the bottom is used to spin.
Not only kids but also people of all ages would enjoy watching this, and also would love to shake their leg along with it.
Available colors of this wassup is silver, blue, red and black.
Bring home a Wassup along with you for just $24.99 and start dancing with it!