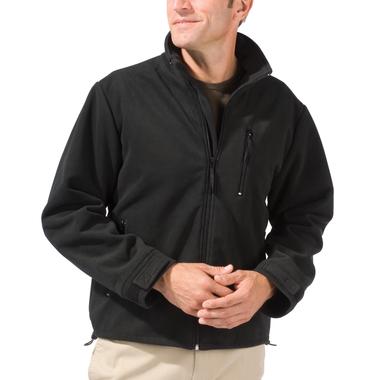 The new arrival from Sky Mall, Carbon-Fiber Heated Jacket, will not only warm your body but your heart to! This windproof fleece jacket is the perfect answer to the bitter winter months.
What's amazing is the way it works — it is by using carbon-fiber heating technology powered by a compact, rechargeable battery, the jacket generates low-power far infrared rays, similar to the light waves that occur naturally in the sun. The rays penetrate the skin's surface, warming your chest and back for up to five hours. Heat is transmitted though the carbon fiber mesh sewn into the chest and back of the jacket, and the laminated microfleece fabric traps heat close to your body.

Features:
-The jacket is Unisex.
-The three heat settings are easily manipulated by a controller that stores comfortably in an interior pocket. Includes one lithium-polymer rechargeable battery with AC adapter.
-It demands hand wash.
-It is available in sizes M (38 – 41), L (42 – 45), or XL (46 – 49). So far, it is available only in black.
-Sky Mall guarantees that it is absolutely safe.
Tidbits:
The jacket appears smart and extraordinarily sophisticated. The shipping details look well chalked out. Moreover, Sky Mall is offering exchange and refund options in case of dissatisfaction and the lowest prices in the market.
So, this product deserves a try. And while you are there, check out the Electronic Optic Ski Glasses (if you are the sporty type) and the sheepskin Slippers (they look wonderfully cozy), among other things. Wish you lots of warmth this winter.
Source: Sky Mall