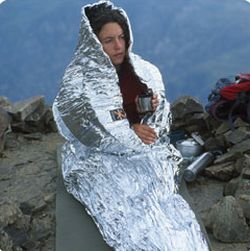 To give an excellent protection against the blood-chilling cold to anyone like walkers, climbers, cavers, canoeists, mountain rescue teams, ski mountaineers, adventure racers and others, Blizzard Survival Brand has incorporated Reflexcell material in its Blizzard Survival Bag. The product comes in a small package that equals a video cassette in size without any extra burden of carrying a heavy bag or kit for the emergency times.
The bag is 100 percent waterproof and wind proof that traps the heat inside it along with a tight hug on your body due to included elastic. Its tough and durable material makes it a perfect companion during casualty care, emergency preparedness, disaster relief, personal survival, outdoor activities.
This extremely portable and reusable bag is available for approximately $80 in silver, orange and green colors.
Via: Campist