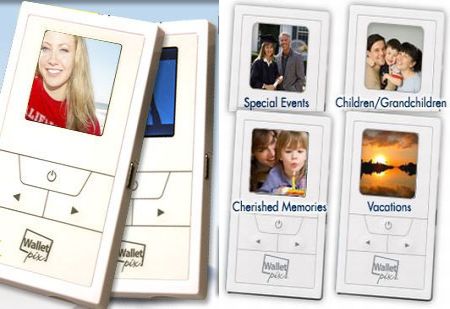 Gone are the times when we used to carry pictures of our loved ones in our wallet, nowadays we simply load'em on our cell phones to share them with our friends, or we can use the new WalletPix digital photo album. It's the size of a credit card but just a little thicker.

Loading photos on your WalletPix is real easy, you can connect it to your PC with a USB cable (provided with the album) and through its easy to use software you can manage the photographs in your own way. So I think it's a good alternative for carrying your loved ones around unless you have a cell phone with the same features.
WalletPix Features:
Live Chat and email technical support
3 button cell batteries- included
Plug and play software included so you will be automatically connected
Auto 'Shut Off' feature to
save battery life (can be disabled).
Wallet Pix automatically resizes
photos to fit the screen.
Compatible with MicrosoftWindows 2000, ME XP and Vista
The size of a credit card- you can take it anywhere.
Via: Chipchick