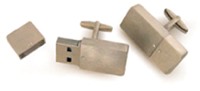 More and more USB flash drives are flooding into the market in these days. All these flash drives flaunts unique shapes but offers almost similar storage space, except Sony's Microvault which offers 8GB capacity and everyone having a unique shape.
USB Flash drive Cufflinks, is the other one to join the brigade. Specially meant for style conscious gizmo geeks these cufflinks allows you to wear your confidential data without being worried about its safety.
Designed by Tonia Welder, there are no details are available about its launch so let's wait and watch either it becomes the next fashion fad among masses or not.
Also See Mobile Whack