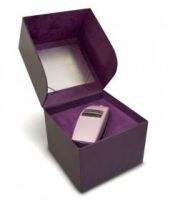 Je Joue is the only one of its kind; it's a non penetrative Vibrator which is controlled by the Digital Files (Grooves). It enables you to enjoy something similar to foreplay as Grooves controls its soft massage pad to move in innumerable patterns.
Its an ideal thing for long distance love birds as now they can develop a 'pleasure Programme' exclusively for their beloved and can send via email. During the phnase when it was being developed it was tested on 150 women and 90% of the women were eager to buy it.
So don't think anymore and gift it to her this for valentine.
Via Giz mag