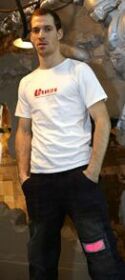 Interactive clothes are becoming a rage these days. These living clothes seem to be the latest fashion fad. Right from the interactive T to the talking T-shirts, they are all set to sway over the fashion market. The latest to join the bandwagon of interactive and electronic clothing line is Uranium.
Uranium has come up with an all new Jeans that can communicate and interact with various electronic accessories on offer. Not just this, you can even personalize your attire with multitude of downloadable pics and messages that express your attitude to the best.
With these scintillating accessories on your jeans, it will no more be just an attire but a complete style statement of your own.
So what's gonna be the next message you gonna flaunt?
Cool factor: Interactivity