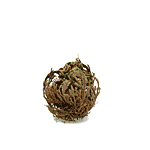 A Plant which never Dries, it's an amazing house plant. Apparently this Dinosaur Plant is surviving on earth from almost 290 million years. It came into existence before the Dinosaurs, struggled to live during the environment which was unbearable for even them, it even managed live on in the ice age and continues to flourish till today.
The most fascinating thing about this plant is its quality of coming back to life; over and over again for several years. This plant appears dried up and dead initially but if you place it in water for few hours it converts into a lively green plant.
It's really; really cool you do not even need to water it regularly. It is an ideal pick for all those who love plants but don't have much time to take care of them.
Whole Dinosaur Plant Kit costs $24.99, which includes the plant of course along with volcanic stones and an attractive display bowl.
Read More Green Head