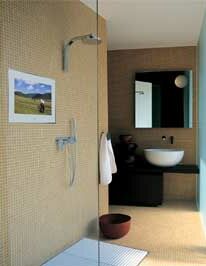 Now there is no need to delay your shower because of your favorite television shows as Aquavision has introduced a line of LCD TV's exclusively for bathroom showers. You can choose the size from 10.4, 15, 17 and a 16:9 23 inch TV.
These bathroom Televisions comes with a floating remote and I don't need to mention that they are waterproof. To avoid steaming up it comes with a heated screen.
Though no information is available about its price but obviously this luxury product would be expensive.
Via Cool Hunter